Are you looking for a REALTOR® with experience, skill, area knowledge, and the "client first" attitude to turn your goals into reality?
My goal is to provide my buyers and sellers with service far beyond their expectations.  This is accomplished by listening attentively, having endless patience, being available and responsive at all times, understanding and delivering what individual clients want and need, and maintaining a high level of integrity.
A Fort Lauderdale resident since the age of 5, I am familiar with all the cities in Broward County. I love the fact that "my" county offers something for buyers in every price point, from starter homes perfect for first time buyers to million-dollar waterfront homes on ocean access canals. I enjoy the variety this adds to my work, and after selling nearly $50 Million in South Florida real estate, I strive to offer the same high level of service to clients across the pricing spectrum.
As a REALTOR®, I enjoy working with both buyers and sellers.
Buyers are fun because of their joy and excitement, especially when they're purchasing that first home. I enjoy helping them find the home that fits both their lifestyle and budget, negotiating on their behalf, and guiding them through the process to a successful closing. 
Sellers offer me the opportunity to use my marketing skills to present homes in an artistic and professional manner. I enjoy writing the property descriptions, taking professional quality pictures, creating virtual tours, and presenting listings on their own custom URL. Of course those presentations also go out to Realtor.com, Trulia, Zillow, and many other real estate portals. 
Because I tell sellers what they need to know rather than just what they want to hear, my listings are priced right and sell quickly.
Because I stay on top of every detail throughout a transaction, my clients are always kept informed and nothing is allowed to fall through the cracks.
A REALTOR® since 1998, one of my first official designations was "ePRO." These studies put me on the cutting edge of technology even before the use of the Internet for real estate was widespread. I was among the first agents to embrace virtual tours, selling via Skype, and uploading videos to YouTube. Since then, I have remained at the forefront of technology, utilizing e-signatures and employing drone photography to add yet another dimension of marketing to my listings. 
I also hold the GRI (Graduate Realtor Institute) designation and the CHS (Certified HAFA Specialist; Home Affordable Foreclosure Alternative) which I earned in order to better help clients wanting to save their homes from foreclosure.
With a strong belief in ethics and honesty in real estate, I served on the Fort Lauderdale Board of Realtors® Grievance Committee from 2003 through 2005, and since 2006 continue to serve on the Professional Standards Committee. These committees hear complaints, impose punishments for violations, conduct arbitration hearings, and determine arbitration awards.
Before launching my real estate career, I trained dogs for nearly 20 years. I credit those years for my patience and persistence, and for my habit of keeping a positive attitude no matter what. You simply can't successfully train a dog without patience, persistence, and a cheerful can-do mindset.
Aside from real estate and my family, dogs are my passion in life. My family and I share our lives with our beautiful Labrador Retrievers, and I still enjoy teaching group classes on Wednesday nights for my family's dog training company, Command Dog Training.
My new hobby, which I share with Blondie, is agility training.
Here she is at her very first agility trial last December! Spirit, the dog in the picture with me, is my frequent companion on car rides and is my obedience "demo" dog, showing students how to perform their lessons properly. Page is my son Daniel's companion while Page's mom, Cindy, is the canine family matriarch, at 14 years old. Yogi is my husband's best buddy.  This is one of our birthday parties, celebrating Spirit's birthday!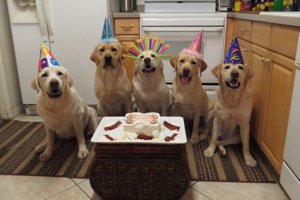 When you're looking for a REALTOR® in South Florida, please call me, and if it turns out you're looking outside of my coverage area, I'll be happy to find another hard working, reputable agent for you.